The harsh reality of Injury

Posted by Natalie White | AUG-09-2019
---
So that's it. No more running for me. At least for the next few months anyway! Unfortunately, this is the price you pay for not looking after yourself and seeking the right treatment in the initial stages of developing an injury. You would think that I'd know better!
I've just been for my second Physio appointment with Rick Lovell (@achievephysiotherapy), and the diagnosis is tendonitis. Although I am much improved from last week there is still a long road ahead to full recovery.
Wind back a few months to New Year's Eve. We were excitedly celebrating our engagement and after a few drinks and a drunken purchase, the next thing I know we're signed up to Breca Buttermere. A swim-run event not for the faint hearted.
I knew that the event would be a challenge for me. I've ran several Marathons previously but had no experience of fell or trail running, I needed some help.
I met Andy Pye (@TrailRunWestMidlands) during The National Running Show back in January - an approved British Athletics Coach with plenty of personal experience running Ultra's across some of the country's most formidable terrain. During my first session he conducted a running MOT which immediately identified my bad habits including foot-strike, posture and arm swing. This session was just the motivation I needed and I have been working with Andy to improve my running style with the aim to build my confidence in the fells.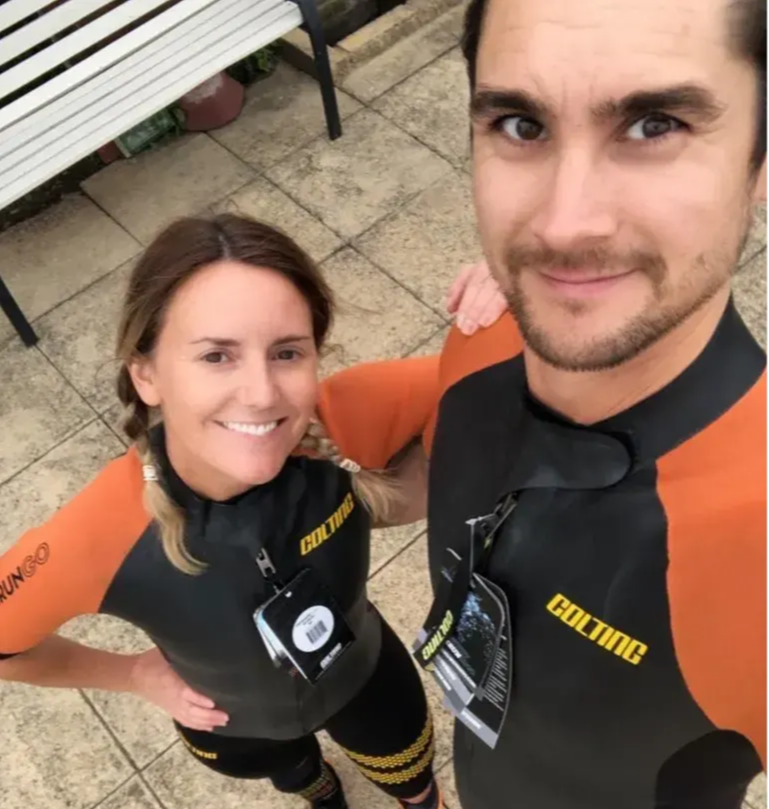 The next task in the build up to this event is the kit, and it's not just any kit. You are swimming and running in the same attire so your wetsuit needs to be flexible and breathable allowing you to run comfortably (that in itself is questionable!) and your foot wear needs to drain quickly. The event also allows the use of aids, paddles and pull buoy, all of which you have to run with, oh and I nearly forgot, the tether. You are tied to your partner! Several hundred pounds later, and we're all kitted out in matching apparel.
This is where it all started, footwear. I am fairly flat footed and in my usual trainers I wear insoles. I'm a slave to Asics and have never really suffered injury. For some reason I didn't consider the impact of wearing a different type of running shoe. I did several runs in my brand-new shiny swim-run shoes and this is when the pain started. It's just a niggle, I told myself. I kept running for several weeks, the pain increasing along with the distance of my runs.
Fast forward to the present. We have now had to pull out of our event, which has devastated me. There is not only a cost implication to this (races are non-refundable and non-transferable) but, seven months of hard work, plus the sentimental element of us completing the challenge as a couple.
Not being able to run is having a huge impact on me. I am worrying about my fitness levels and the possibility of weight gain. I have been trying to keep up with my swim training but I am now struggling with motivation. The repetitiveness of drills in the pool does not have any purpose without the urgency of having an event booked in the calendar.
---
GPD Back Heat Pack with Elasticated Belt (Large)
GPD Multi-Purpose Gel Pack with Compress Wrap (Medium)
Dynamik Ice Bag (20cm) with Neoprene Compression Wrap
---
Whilst I'm injured its worth taking the time to look at where I went wrong. I don't want to be making the same mistakes next year.
Firstly, listen to your body. It may feel like a niggle but a niggle is the start of an injury. Take time to rest and recover fully between each run. Always ice any injury for the first 48-72 hours. You can then use heat to increase blood flow and promote healing.
Warm up and cool down properly to minimise the risk of injury. If you're struggling for time, make your warm up part of your run by beginning with a slow jog. Always stretch afterwards.
Seek advice before changing your footwear. A physiotherapist or podiatrist can help with this. They will offer you advice on how to choose your running shoe and can create custom insoles to support individual body mechanics.
Don't try to change too many things at once, especially if you're close to race day. Although improving your running style is important, this should be a gradual process and changing your footwear at the same time is never a good idea. There is too much for your body to adapt to.
Stay motivated. It's difficult this late in the season as the event calendar is nearly at an end and places are fully booked, but, I am on the lookout for another event, is the Istanbul marathon in November too soon?
Finally, early treatment of an injury is vital. If I had only gone to see Rickie in the first instance, I may well be in a very different position. A good physio won't give you a gentle massage, it's the most painful half hour of your life, but, after a few treatments I am already seeing the benefits and can now start to load my ankle this week.
Injury is not just a process of recovery. It's a process of discovery.
These past few weeks have been a learning experience for me. It never feels good to make mistakes but there certainly is a benefit to learning from them. Having never really been injured before, I now know that I am not superwoman, I am not invincible and I better understand my limits.
Follow Us on Instagram @gelpacksdirect
Aug 09, 2019

Category:

News
Comments: 0